Dentist in Nottingham
Market St Dental Care
32 Market Street, Nottingham, NG1 6HW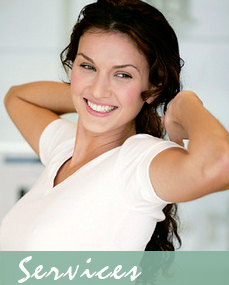 General Dentistry

Preventative Dentistry

Restorative Dentistry

Cosmetic Dentistry

Orthodontics

Facial Aesthetics
Treatments
Metal Fixed Appliances

These are the most common form of appliance used are often also termed 'train tracks'. They are most commonly made from stainless steel and attached onto the teeth using tooth coloured filling material (composite resin). Care has to be taken eating hard foods as the attachment can break, leading to a disruption in treatment. An orthodontic wire (archwire) is tied (or ligated) into the bracket using elastic rings which can discolour in-between visits. As treatment progresses, thicker wires are used creating more movement. Some patients term this process as 'tightening' the appliance. Appliances can easily be removed at the end of treatment leaving the teeth intact.

Ceramic Fixed Appliances

Rather than using stainless steel, the attachments may be made from a hard ceramic material to blend in with the tooth colour. This produces a more aesthetically pleasing appliance which is more of an attractive option particularly for adults. The orthodontic wires can also be tooth coloured to help improve the appearance further. Ceramic fixed appliances are as effective as conventional fixed appliances at achieving tooth movement.

Clear aligners

Clear removable aligners are an alternative way of correcting milder orthodontic problems.

This method comprises of a series of plastic aligners that gradually straighten teeth. "Invisible" removable aligners are perhaps the highest profile orthodontic appliance, with widespread advertising in magazines and television. Whilst they have become increasingly sophisticated and refined it remains important to be clear about the circumstances in which these devices are best used and by whom.

Aligner appliances are ideally suited to adult patients whose life-style or work commitments make it difficult for them to wear more visible conventional fixed appliances

Removable Appliance

Removable orthodontic appliances can be taken out by the patient.

Removable appliances consist of an acrylic palate with wire components that are used to hold the appliance in place and to move teeth. For a successful outcome, these appliances need to be worn 23 hours/ day usually for 6-9 months. These are braces that can be removed from the mouth by patients for cleaning.

The is the perfect solution for crowding or protrusion of the front teeth. It is fast, safe and consists of an acrylic plate and nickel titanium metal components. With the patented Inman Aligner, your front teeth can be gently guided to an ideal position in a matter of weeks. Most cases complete in 6-16 weeks and because it's removable you can take it out to fit with your lifestyle. It should be worn for 16-20hours a day.

After any orthodontic treatment, retainers will be required to ensure the teeth maintain their corrected positions.

FAQ'S

What will happen at my first appointment?

The dentist will examine your mouth to assess the problem. You may need to have X-rays and/or photographs taken. The dentist will then want to discuss the possibilities for treatment with you and agree how to proceed. The treatment will be started by taking impressions or "moulds" of your teeth. You will not have braces fitted at the first appointment.

What happens when my braces are removed? Will I need retainers?

Yes. The tissues and bone around the roots take time to adjust to the new tooth positions and there is a particular risk of relapse in the early months after the brace is removed. Even in the longer term some risk remains and the best advice is to continue retention for the long term if possible.

Retainers may be removable or fixed, and there are advantages and disadvantages to both.

Removable retainers may be worn full time initially, but reduced to night times later or night times only from the start of the retention period. Your orthodontist will advise you on when to wear your retainer. They are effective but obviously depend on the patient remembering to wear them. They will need occasional repair or replacement, a relatively simple task although you may be charged for a replacement.
Fixed retainers are usually glued to the back of the teeth. They are therefore in place all the time. A high standard of tooth cleaning in the vicinity of the retainer is essential to avoid gum problems. They do need regular inspection because if any of the glue fails, the tooth in question may start to drift out of position. For this reason it is essential for the patient to contact the dentist at once if there is a breakage.



How long will my orthodontic treatment take?

Simple straightening can sometimes be carried out as quickly as 3 months, particularly if it's only the front 6 teeth. However, a relatively short treatment like this usually produces limited changes and this is not always a long-term solution as often this isn't enough time to move the whole tooth, including the roots, into the right place. This may mean the teeth may quickly move back to their original positions once the braces are taken off. It often takes between 1 to 2 years to get the teeth to bite in a better way, in harmony with the jaws and lips. It may take longer for more difficult problems.